October
The autumn calves started arriving a little earlier than expected at the start of October, and we are still welcoming new arrivals now. We try to time the calves arriving in two blocks - one half of the herd calves in spring, and the other half in late autumn - but we weren't expecting any to arrive till late October. These early arrivals did get the opportunity of enjoy the warmer weather, which got them off to a great start. Now it's getting colder and wetter, the cows and calves have come inside for the winter where it's much warmer, and where they will enjoy lots of space and plenty of silage (fermented grass).
This month we were delighted - and a little surprised - to be presented with two awards. One of the awards we entered ourselves. This was the VIBES awards, which is Scotland's environmental business awards. These awards are for any type of business and what's nice about them is their focus on showcasing what's possible. They have a very rigorous judging process - and at the final stage they didn't hold back in their questioning of us - so we were very pleased indeed to be one of four winners of an Outstanding Achievement award.  
The other award was very much a surprise, because we didn't enter it ourselves - so a very big thank you to whoever took the time to nominate us. It was the Helping it Happen Awards, where we won the Innovation in Farming award.  What was extra nice about this one was that we would have been equally delighted to have not won. This is because the other two finalists in this category are both organic, regenerative farmers, as well as good friends - Mossgiel Farm in Ayrshire who also have a cow with calf dairy system, and Hugh Grierson Organic in Perthshire. 
Towards the end of October we also saw a flurry of activity related to COP26. We welcomed Border TV to our farm where David called for an outright ban on industrial food production. We then headed 50 miles north to one of our ice cream customers, Crawick Multiverse, to welcome the cyclists of Ride the Change, sponsored by Abel & Cole, to southern Scotland as they continued with their journey from London to COP in Glasgow.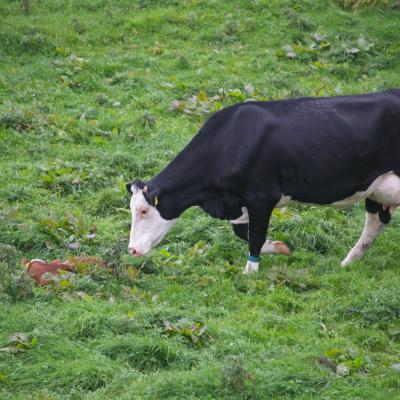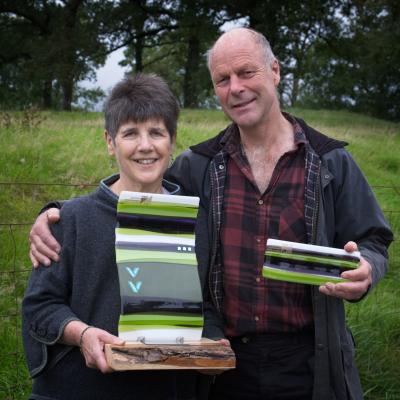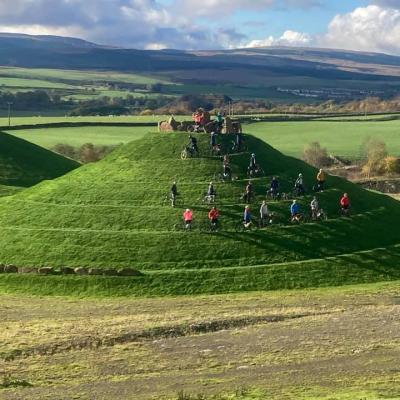 November (so far...!)
Finally, in our whistlestop tour of the past few months, is the last week and a bit, and COP26 itself.
One of the things we spent quite a lot of time exploring over the past couple of months was the possibility of taking some cows and calves up to Glasgow itself to help raise awareness of the climate benefits of pastoral farming. We knew it wouldn't be easy, for all sorts of reasons and the end it proved just too complicated, but the point we were trying to make is important.
So much of the discussion about food production in relation to climate change and net zero focuses on cows as being a problem. We, and many others, would suggest that it is the WAY livestock are managed that determines whether they are part of the problem, or part of the solution. Is the global herd size unsustainable or is it our methods of farming that need to change? What can we learn from pastoralists around the world about living with cows in a net zero world?
David took part in a talk and workshop involving farmers from a number of different countries for whom livestock remain culturally and nutritionally important.
And to help make that point we submitted an opinion article to The Times on that topic and we were delighted when they printed it. You can read it here.
We were also delighted to welcome Minister Pippa Hackett, Green Party Senator and Minister of State in the Department of Agriculture with responsibility for Land Use and Biodiversity, in Ireland to the farm. Ireland's Programme for Government includes a commitment to examine the viability of a 'calf at foot' dairy system, so Minister Hackett included a trip to see our approach first hand en route to COP26.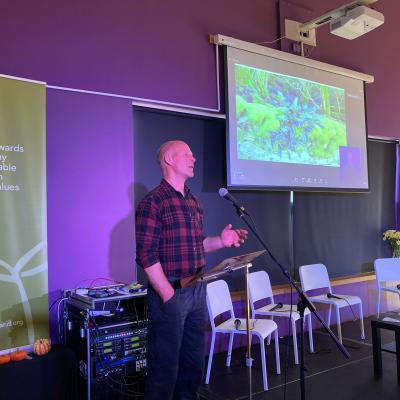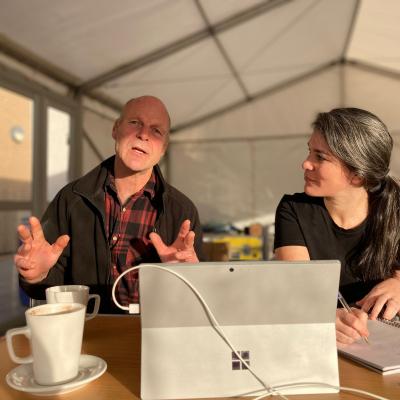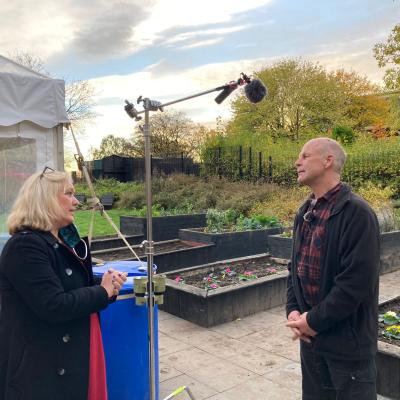 As well as all this of course, we have also been making cheese and getting everything organised for our Christmas orders. We have introduced different types of Woolcool packaging to help make sure we have the right packaging for different orders, so you might notice a change in packaging in deliveries over the next few months. We have also, unfortunately, had to nudge some of our prices upwards to reflect the rising costs of just about everything - including increasing the minimum order value for free delivery.
Our Christmas ordering is now open, and you can order now for deliveries in mid-December. Our final delivery slots for pre-Christmas will be 15th & 16th December.